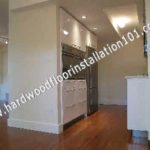 I often get questions about how to install hardwood floors in the kitchen, in the corridor, bathrooms and toilets. What to install first – floor or kitchen cabinets?
First, before you install the hardwood in the kitchen, washroom and bathroom, make sure that you really want it. The fact is that the kitchen, bathrooms and washrooms are high-risk areas for wood flooring – there is always a large accumulation of moisture.And, as with any type of flooring made of wood, you probably know that the wood is afraid of water. And yet, warm and beautiful hardwood floors can be installed wherever you want them!
Which hardwood can be installed in the kitchen?
To begin, select the type of wood that is less afraid of moisture, for example bamboo. That's why this wood is very popular. It is strong enough, and the least responsive to moisture.
The fact is that during cooking and pouring of drinks, you or someone in your family may accidentally drop food or spill liquid on your beautiful hardwood floor. If this happens, do not worry too much, because it can be fixed. However, if you do it too often, you will eventually need to replace some boards in some areas, in order to make small repairs.
Replacing a few pieces of wood is quite possible, and usually does not take much time.
Now let's answer one of the most frequently asked questions: how to install wooden floors in the kitchen – around cabinets or under them?
For example, you've already decided on the type and color of the hardwood and its installation has commenced. But at the same time, you have not chosen a design and the number of kitchen cabinets. In this case, you can install flooring in the entire kitchen area.  But if you have the opportunity to avoid this, it is best to wait until such time as when all the kitchen cabinets are hung and stood in place, and then install the flooring. There are several reasons:
First, there is always a chance in scratching the finished floor during the installation of kitchen cabinets.
Second, if in the future you need to replace several damaged pieces of wood, it will be easier if all the damaged boards are located in the open area.
And finally, the kitchen cabinets occupy a fairly large area. If you install the flooring around them, you can save a considerable amount of money with material and its installation.
Knowing these three simple rules about how to install hardwood floors in the kitchen, you will easily know the answer on how to install it in the washrooms and bathrooms as well.
If you need more info on ho to install hardwood floors on concrete, you can find other posts on this website.
You Might Also Like:
How to Install Hardwood Floors on Concrete: Do you Know about It?
How to Install Hardwood Floors upon One Type of Subfloor – Plywood
Wood Flooring Types and Their Installation
Installing Hardwood Floors by Yourself: 15 Professional Tips for DIY Homeowners
Installing Hardwood Floors on Stairs – Make It Easily
How to Install Hardwood Floors: What You Should Do before Installation
How to Install Hardwood Floors in the Kitchen